Acadian Selected as Finalist in Pension Bridge 2020 Institutional Asset Management Awards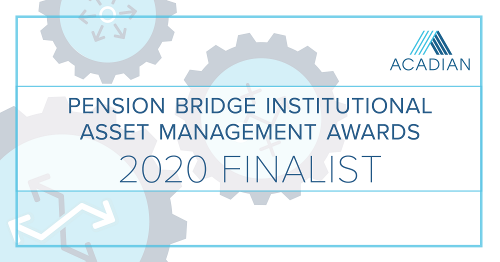 Acadian Asset Management has been selected as a finalist in the Pension Bridge 2020 Institutional Asset Management Awards for two strategies. Pension Bridge nominated Acadian's Multi-Asset Absolute Return Strategy, the firm's flagship systematic macro strategy, for Multi-Asset Strategy of the Year and Acadian's Non-U.S. Equity Strategy for Active International Strategy of the Year.
Winners will be announced Thursday, September 24, 2020, at the Virtual Awards ceremony. For more information about the virtual event visit https://iamanagementawards.awardstage.com.
Pension Bridge Institutional Asset Management Awards 2020 selection criteria:
The fund categories are open to any funds that have institutional investors, including, but not limited to, SMAs.
The judging will be 2-stage. The first stage will use purely the quantitative elements to derive leader boards from the entries. These leader boards will inform and populate the shortlists for each category, who will go through to the second stage of judging where a panel of independent and impartial judges from Institutional Investors and Consultants will ensure firstly that the data is correct and will use their knowledge and the qualitative elements of the entry process to decide on the winners by category.
The judging panel reviewed 9 managers each for both the Multi-Asset Class Strategy and Active International Equity Strategy.
Pension Bridge provides exclusive events for senior executives within the institutional investment management industry.